Increasing the Effectiveness of Prayers and Pujas
Click here to continue 點擊此處前往預訂祭頌與薈供
His Eminence the 9th Minling Khenchen Rinpoche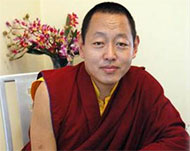 "Traditionally, when prayers and pujas are performed, the sponsor, and often the sponsor's family too, would come to the monastery and make offerings personally to the Rinpoches and monks and also be present for at least part of the puja.
Now, it is wonderful that new technology makes it possible for those who are far away from the monasteries and nunneries to make a closer connection with the puja by receiving photos of the puja and ideally watching the puja over the Internet. This closer connection, together with the sincere heartfelt motivation of the sponsor to dedicate the merit of the puja towards dispelling the sufferings of all sentient beings, is especially powerful."
His Holiness the 41st Sakya Trizin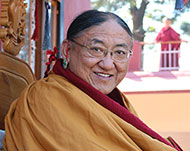 "We are very happy that the online services at the Sakya Centre and Sakya Nunnery are now available. We have been hoping to be able to launch online services for several years now, because we feel that maintaining a close connection between the monasteries and nunneries and the public is extremely important.
Traditionally, we are requested to perform prayers and pujas to remove obstacles at every stage of a person's life. And these pujas can have a powerful effect in helping each person to develop their practice and in helping each person to live a happier and more successful life, free from obstacles. Now that the Buddhist public is scattered all over the world, the online services have become a very important way of maintaining this close connection. This is because, even if you are not able to be present at the payers and pujas, just by being able to see and hear the pujas, the blessings and benefits will be transmitted and the obstacles will be overcome."
His Holiness the 37th Gyalwa Drikungpa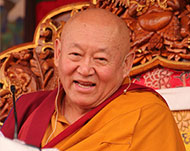 "Now that Tibetan Buddhism has become globalised these online services are wonderful as it makes it possible for both Tibetans all over the world and our Buddhist public worldwide to connect with us. It is wonderful that the online services now make it possible for you to practice as you watch the webcast of the puja and thereby to connect with the practice of the monks and nuns who are performing the puja. This is a direct relationship of cause and condition and this makes the puja all the more effective."